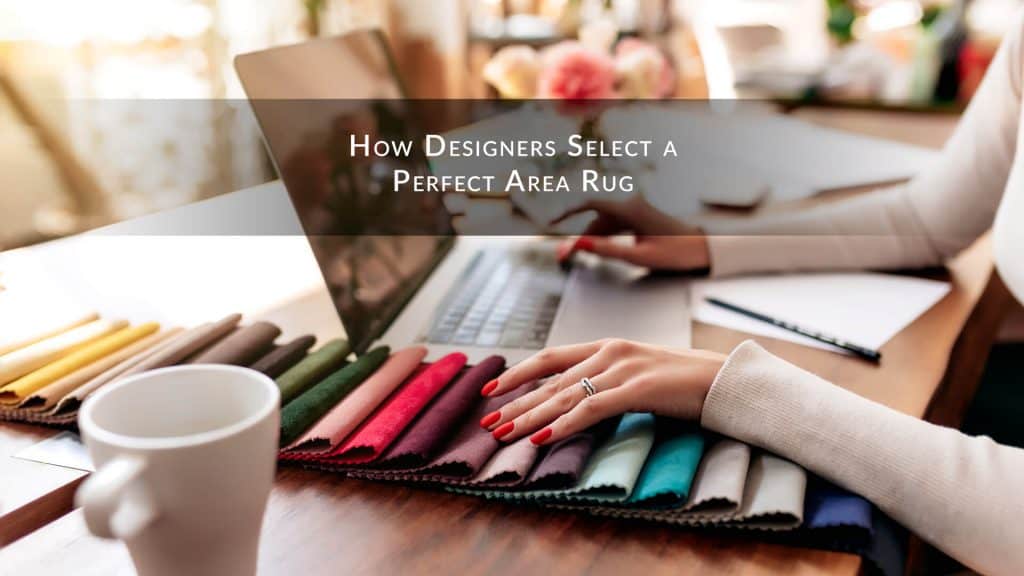 How Designers Select a Perfect Area Rug
Your home is the only place where you unwind yourself and rejuvenate your whole body after a long tiring day, and it feels great to be at home when you create your own space with love in a manner to cultivate happiness for you.
There's something good about spending your time at home that revitalizes all your senses. Be it the smell of your room, watching tv sitting on your favorite sofa, the sight of your wall art, or the touch of your feet on the rug.
But it's not easy to create a space that defines your style and personality. There are plenty of limitations that can make a big difference in developing your home-aesthetics.
Don't want to spend big on the decor and still want your space to make a statement? Well, you can achieve this by adding a few eye-catching elements to your space. Area Rug – being one of them, can help you to set the tone right for your entire space.
Looking for a perfect rug for each space of your home? At Mat the basics, various interior designers and architects coordinate with our designers to get a perfect rug for their different projects. We hereby curate the list on what designers look for and how do they choose the best indoor rug.
Consider the function of the Rug
 In your routine life, different purposes call for different shoes. Wearing your running shoes at your sisters' wedding or the loafers on a lazy Sunday morning won't do any good. The idea behind selecting different shoes for various activities is serving the right purpose.
Similarly, your lifestyle calls for different area rugs for different rooms. A designer rug won't serve its purpose if placed in the bathroom. Selecting a perfect rug for your room depends on how you plan to spend your time in the room and how do you envision living in your space. Would you like to have the glamour or you want comfort in your room? These things will help you to utter what design you should look for in your room, which leads you to choosing a perfect rug.
Why Rug Size Matters?
 An Area Rug suits best in proportion to your space. That's why it's important to consider the shape of your room and the furniture to get an idea of what size of Rug to select and how to place it.
The size of an interior rug decides the look of your room. It can either make it or break it. Hence we always recommend having a bigger size indoor rug for your room as small size rugs will have a zero impact in your large-sized room. Let's see what size of Rug best fits your various rooms.
For a large spaced living room, choose a rug big enough to pull all the pieces of furniture together and define a conversational space, and for your small-sized living room placing an area rug under the coffee table will make it look larger.
The Contemporary Rug under your dining table should be large enough to add 24 inches extra on all the sides allowing chairs to always remain on the rug even when pulled back for seating.
For your bedroom either opt an Indoor Area Rug that fits all legs of the bed on it or at least 2/3rd of the bed is placed on the Rug. You can also opt to place rug runners on each side of the bed.
Choosing a perfect color
The color of the luxury rug that you plan to place in your living room is going to be a key element, highlighting your entire space. Hence you should be clear with your intention of placing the rug. Whether you want to add color to your room? Or looking to add color with texture? Whether the Rug should make a bold statement or it should just blend with the existing decor?
Before you finalize the color of your indoor rug, take a look at the color scheme of your home and also consider the color of your furnishings. Imagine how would they look together with your rug for a clear perspective of your choice.
Choosing the best material
 The material you choose for your floor rug depends on various factors. First, the room for which you are making a choice. Second, the purpose of placing it in that particular room. Third, who all will be using it, and at last, why they would be using it.
For your living room, you need a soft woolen contemporary rug to place your feet upon. However, you cannot place the same Rug under your dining table. For your Kids to play upon, you either need a woolen or cotton Rug considering its durability and easy maintenance.
Whatever choice you make, always prefer a rug that adds to the feel-good factor.
Styling Tips
 Consider these additional styling tips used by our various legendary designers:
Colors are always useful. Prefer Rugs with interesting patterns of different colors. Patterned and Colorful Rug will not let the wear and tear appear on the surface.
Choose a colorful pattern to make the place look more joyful.
Add a layer of pattern Rug on a solid area Rug. It's an easy way to add dimension to your room.
Entrance Halls are the perfect place to set the first impression by placing a bold rug.
Choose a plain Rug with a contrasting edge to strongly define an area.
A Round Rug is perfect for the rooms with lots of hard edges.
We hope these expert designer tips will help you to put your beautiful room together. To get started now and choose from the various options of indoor area rug in terms of size, color, and material, you can visit www.matthebasics.com. You can also ask your questions related to making choice for a perfect luxury rug or you can order a customized area rug with your preferred design, color and size to best suit your needs.
Explore Our Brand Collections