Choosing an Area Rug perfect for your Décor and Taste: Décor Guide by Mat The Basics
"People usually are the happiest at home."
This statement by Shakespeare holds a certain value in all our lives. There is nothing more relaxing than grabbing your favorite drink after a long tiring day as you sit on the couch in your room resting your feet on a fluffy, luxurious rug. Not only in the living room, but you can easily relax in any corner of your house. A designer must be aware of this fact, and décor like it is his or her own home. Taking the point further, let's look at the area rug décor guide for your home from the perspective of an eight-decade-old manufacturer of area rugs.
There are many elements in your home that can have a considerable impact on how you feel in your surroundings. One such essential element is an area rug. This piece of luxury on your flooring decides how your room looks and feels, and how does it communicate with you. It either goes with the harmony of your room or makes a unique statement. You can easily add fun, color, and pattern to your space with a well-selected indoor area rug. But do you know which rug will best fit your style? Where there are plenty of options in selecting the best area rug for your place, which one would you prefer?
With our carefully curated rug style guide, you will be able to decide which rug will be perfect for your décor and taste.
Why should you add Rugs to your Room?
Each room in your house evokes an emotion that features design choices like furniture, rugs, and curtains that help improve the vibes of the place. Your living room is the place where the family sits together and where the guests arrive, and it should carry energy that's coupled with elegance. Your bedroom is a place where you want to be the most comfortable and this can be achieved through sedate colors and textured fabrics. Your dining room is a place you use to impress your guests by making a bold statement there. But how do you achieve all this in each of your rooms? The answer is simple – with Rugs.
Choosing a Rug Style for your décor
Choosing a Rug Style is one of the important steps as you decide to add this piece to your home. The different styles of Area Rug you will find online as you search for a perfect piece for your home are Contemporary Rugs, Moroccan Rugs, Shaggy Rugs, Traditional Rugs, and Vintage Rugs. But what do these styles mean and how each one fits into your home. Let's find out.
Contemporary Rug is a piece of art and a unique accessory on its own. Area Rugs with the presence of geometric shapes, free form elements, contrast, and bold colors are considered as Contemporary Rugs. Its design has influences from the art deco and retro craft while the feel is modern.
Add a splash of color to a neutral room with the help of a contemporary rug or build the design of your room around the color from your contemporary rug, it will anyways bring energy and personality to your room.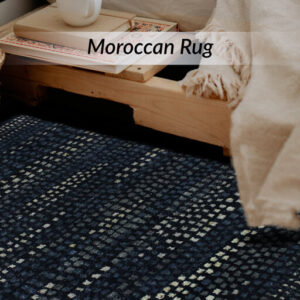 Moroccan Rug is a traditionally handwoven rug by the Berber tribe of Morocco who reflects their ancestral influences on the rug. They were made solely by women to use for their home, floors, or as bed covers or blankets during colder months. Moroccan Rugs are filled with symbolism and sometimes tell the story of the women who created them. Each Moroccan Rug takes about 20-30 Days to be hand-knotted with a unique design every time. No two designs are the same.
Moroccan Rugs are single-knotted in wool with bold colors and patterns. It can be placed in any dull room to give it life and brightness.
In Morocco, another form of rug, "Beni Ourain" has been produced for many decades produced by a collective of 17 tribes, and due to its shaggy appearance, the rug started to be called Shag Rug. Each fiber of shag rug has a longer cut than other area rugs to produce a deep and soft pile. Shag Rug comes in different shapes, sizes, and softness, boosting the room's comfort and allowing you to enjoy the barefoot experience.
Spice up the beauty of your room with colorful shag rugs that adds excitement to every corner of your room or add this deep pile and fluffy shag rug to welcome warmth to your space.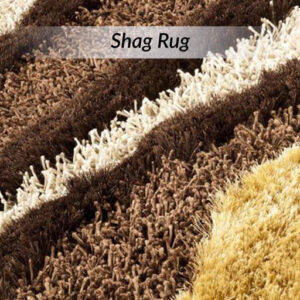 Traditional Rugs are hand-knotted pile rugs with rich colors and patterns to bring a sense of coziness to your space. Most traditional rugs have great details in the fabric, with a set of designs from the royal eras of different countries. Some Rugs offer the style mixed with comfort, and some feature numerous colors and distinct borders.
Placing a traditional Rug is a great way to bring comfort and beauty to any space of your home. Placing it at the entrance of your home makes a warm welcome while it provides a cozy and inviting look in the living room. Place it in your dining room to set an elegant tone to impress guests and for family gatherings.
Vintage is a word that is being overly used nowadays. Any old thing that needs to be sold is given the prefix "Vintage". But for a Rug to be vintage, it has to be made at least 20 years before the current date.
Finding a real Vintage Rug that is at least 20 years old is difficult, but you can find the Rug which provides 'the Vintage look' with the help of pattern and color. With new techniques and manufacturing processes, you need not spend huge on acquiring a Vintage Rug. Rather you can buy a floor rug with a vintage look.
To create a cozy space with Vintage Rug, choose natural colors like brown or green. Select a bold color to give your space a louder voice.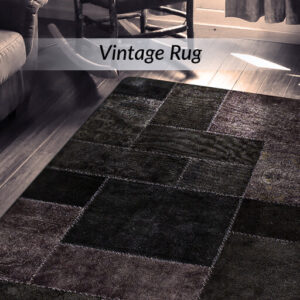 Which Rug style is best for me?
Choosing a rug style will not be as difficult as it seems if you know what style you would like. If still unsure, look at the space around you. What do you want to convey with your space? How do you want to feel as you enter your room? Answering these questions will give you a clear idea of deciding which style is right for you.
When you think you are clear with your idea of which Rug style will suit your needs, you can visit www.matthebasics.com to find the best area rug for your space.
Explore Our Brand Collections